Footer
The footer is a structural component that puts the state's standard footer at the very bottom of your site. Having a common footer tells people that the website is an official product of the State of California, which increases user trust.
The footer contains a set of links that go on all the pages of the website.
The footer always includes:
The CA

.

gov logo on the left that links to the CA

.

gov site.
A set of standard links:

Conditions of use
Privacy policy
Accessibility certification
Contact page for your organization

The copyright notice.
The footer can also include:
An optional logo on the left that links back to the homepage for the website.
Customizable links.
Social media icons that link to official social media accounts. These could be for a department or a campaign. The available social media icons include:

Facebook
Twitter
Instagram
YouTube
Github
LinkedIn
Email
Sample
Desktop

Mobile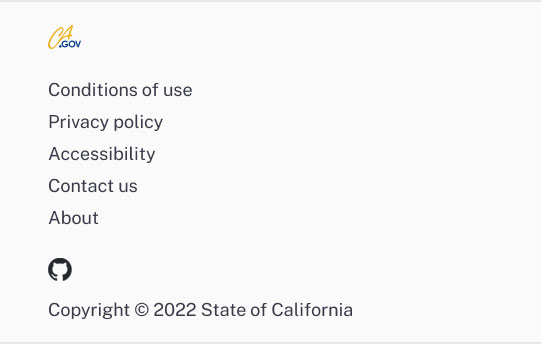 Usage
When and how to use it
The footer goes on all pages of your website.
Examples of links that go in the site footer include:
General department info
Department accessibility information
Careers page
Contact page for the site
Make sure you do not duplicate link text in the footer. Using different link text that takes visitors to the same place confuses people and causes accessibility issues.
Link the social media icons to your official social media accounts.
Provide a contact page that's relevant to your site.
How not to use it
Do not use the site footer:
For primary calls to action
For information to primary user needs
As secondary navigation
Do not add other elements to or change the footer. Use it only as designed.
Do not send them to the general CA.gov contact page unless it's appropriate to do so.
Do not include more than one social media account per platform.
Accessibility
Standard accessibility review
Each time a new component version is published:
Test with the axe accessibility tool
Ensure all actionable elements are accessible by keyboard command and tab in a logical order
Check the component layout on a variety of screen sizes